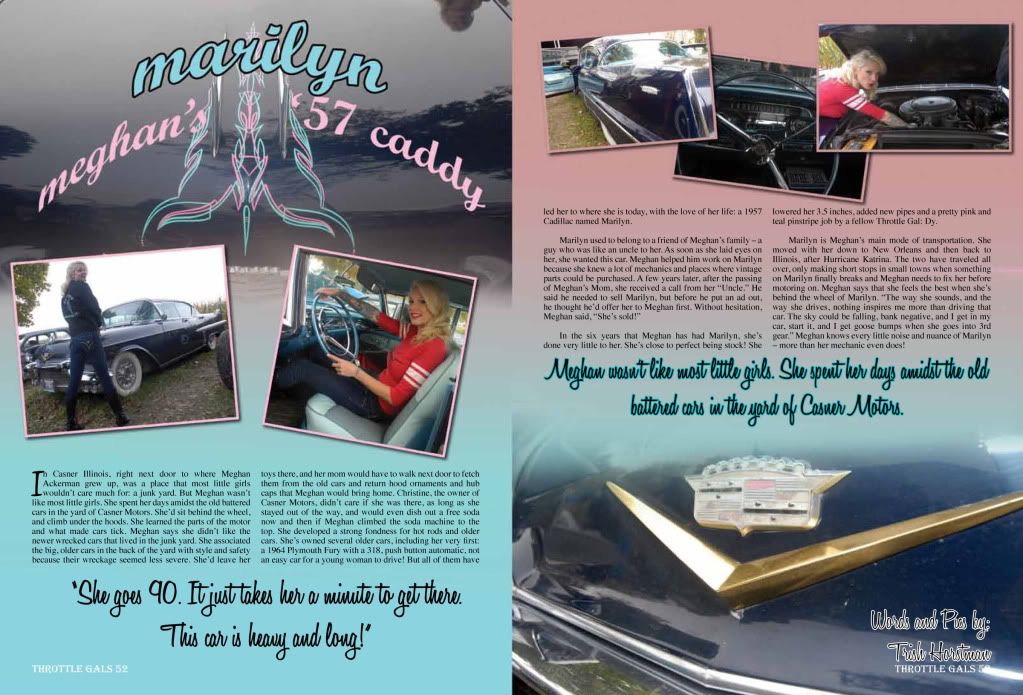 In Casner Illinois, right next door to where Meghan Ackerman grew up, was a place that most little girls wouldn't care much for: a junk yard. But Meghan wasn't like most little girls. She spent her days amidst the old battered cars in the yard of Casner Motors. She'd sit behind the wheel, and climb under the hoods. She learned the parts of the motor and what made cars tick. Meghan says she didn't like the newer wrecked cars that lived in the junk yard. She associated the big, older cars in the back of the yard with style and safety because their wreckage seemed less severe. She'd leave her toys there, and her mom would have to walk next door to fetch them from the old cars and return hood ornaments and hub caps that Meghan would bring home. Christine, the owner of Casner Motors, didn't care if she was there, as long as she stayed out of the way, and would even dish out a free soda now and then if Meghan climbed the soda machine to the top. She developed a strong fondness for hot rods and older cars. She's owned several older cars, including her very first: a 1964 Plymouth Fury with a 318, push button automatic, not an easy car for a young woman to drive! But all of them have led her to where she is today, with the love of her life: a 1957 Cadillac named Marilyn.
Marilyn used to belong to a friend of Meghan's family – a guy who was like an uncle to her. As soon as she laid eyes on her, she wanted this car. Meghan helped him work on Marilyn because she knew a lot of mechanics and places where vintage parts could be purchased. A few years later, after the passing of Meghan's Mom, she received a call from her "Uncle." He said he needed to sell Marilyn, but before he put an ad out, he thought he'd offer her to Meghan first. Without hesitation, Meghan said, "She's sold!"
In the six years that Meghan has had Marilyn, she's done very little to her. She's close to perfect being stock! She lowered her 3.5 inches, added new pipes and a pretty pink and teal pinstripe job by a fellow Throttle Gal: Dy.
Marilyn is Meghan's main mode of transportation. She moved with her down to New Orleans and then back to Illinois, after Hurricane Katrina. The two have traveled all over, only making short stops in small towns when something on Marilyn finally breaks and Meghan needs to fix her before motoring on. Meghan says that she feels the best when she's behind the wheel of Marilyn. "The way she sounds, and the way she drives, nothing inspires me more than driving that car. The sky could be falling, bank negative, and I get in my car, start it, and I get goose bumps when she goes into 3rd gear." Meghan knows every little noise and nuance of Marilyn – more than her mechanic even does!
Meghan's love for motors doesn't stop at cars. Back at her dad's place she has a 1973 BMW motorcycle with a sidecar. She says it does need a little work, but with a little T.L.C. and elbow grease, she knows she could kick it to life.
Upon her return to Illinois, Meghan joined Paddy's Car Club out of Decatur. She met these guys at Bomber Bash in Peoria, Ill., where she was doing some pinup work. Two weeks later she was in! She joined with the goal of finding like-minded hot-rodders, and that's exactly what she got! Paddy's Car Club members are some serious hot-rod lovers. There are few rules: your car has to be pre-1964, has to be running and they travel as a pack to every show. She's got the mechanic side of things down, but she's really looking to expand her skills in upholstery.
Meghan lives the hot-rod culture full time. Her job is traveling with Bare Ankle Burlesque. (Check them out on Myspace: http://www.myspace.com/bareankleburlesque). According to their online profile: Bare Ankle Burlesque is a traditional style burlesque dance troupe inspired by the buxom beauties of the late Vaudeville and Burlesque theaters. Based out of Decatur Illinois, these three lovely ladies have it all, beauty and brains not to mention miles and miles of leg! Meghan performs as Miss Audra Von Tanz, and she and her fellow, tattooed, near six-foot-tall beautiful cohorts travel from place to place in the safety of Marilyn. She says that the best part of Bare Ankle is that they are all tease and no sleaze; they are classy – just like Marilyn. In the coming months Miss Audra will be participating in the Viva Las Vegas contest. You can check out their Myspace for more information and to even book the Bare Ankle girls and we urge you to go online and vote for this fellow Throttle Gal!
As far as Marilyn, Meghan has few plans for her. She works well the way she is; but maybe someday Meghan would like to bore her motor .040 over. She travels fast the way she is though. Meghan says, "She goes 90. It just takes her a minute to get there. This car is heavy and long!" She tends to go pretty fast in her, as Marilyn's slight shimmy around 65 says she wants to go faster. Somehow Meghan is able to convince most police officers of this if she's pulled over for speeding.
Maybe it's the love that she gets, or her Voodoo "mojo bag" Meghan put in her glove box, or Meghan's bond with her, but Marilyn continues toting Meghan around with her fellow rodders from Paddy's Car Club, and the Bare Ankle Burlesque ladies. She's a strong ol' girl!
Perhaps it was her roots in the junk yard, or her growing up around her dad's tattoo shop: Tantric Tattoo in Decatur; whatever it was, Meghan is a Throttle Gal through and through.