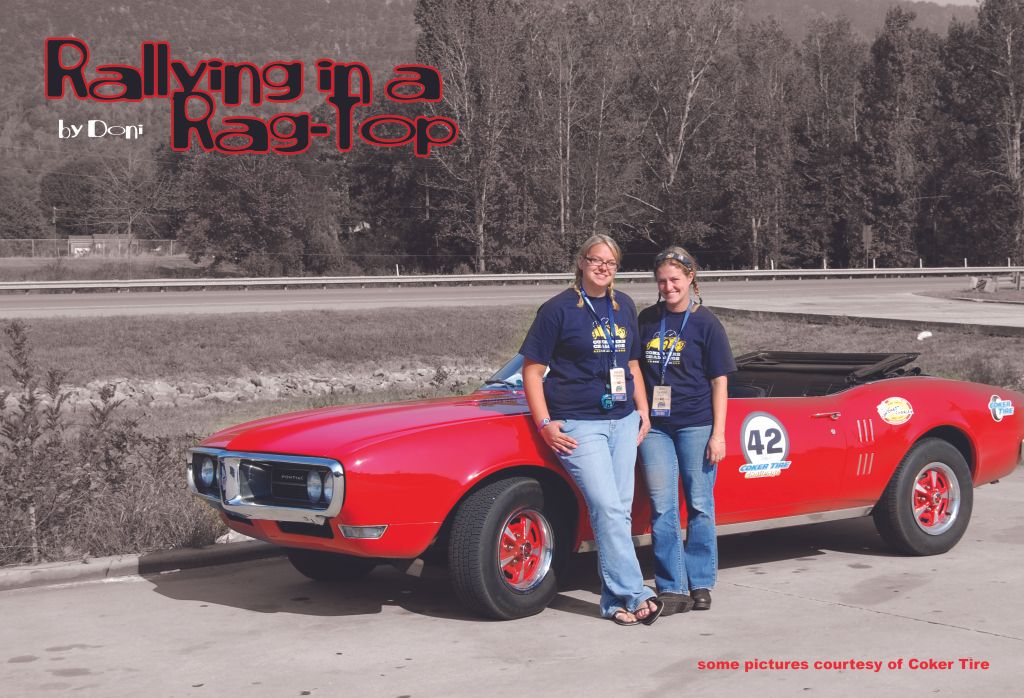 I have a thing for redheads. Perhaps the reason I fell in love with my husband had something to do with his red 1957 Chevy Belair. Motorcycles should be black. Cars should be red, unless they are black. When I became part of the Langdon family, I was allowed to play with some of the family's fleet of cars, including my mother in law Joyce's Coca Cola red 1968 ragtop Firebird. The car always had this annoying whistle at idle but it was easily ignored… until Joyce parked it in the fall with a big backfire. I pulled it out in the spring to pick up my little sister Ashleigh from the airport in style, and deemed the car undriveable. This sparked some heavy debate between my husband and me. Should we pull the engine and fix it? When will we have time to do that? We knew there was a 250 Sprint 6 built for it and that it was sitting in my in-laws' garage. I mistakenly assumed it was ready to be installed, and since Joyce agreed to allow me to drive the car in the Coker Tire Challenge in September, I was really driven to get the engine done. Ashleigh was here visiting, and helped us pull the engine. When Steve removed the exhaust manifold, it came off in three pieces. The old inline 6 was just worn out.

The engine compartment was completely coated in old oil and other miscellaneous fluids, prompting us to do a thorough washing of the entire engine area. Unfortunately, we were a little over zealous with the power washer, and blasted some of the clear off the body of the car. All I can say is thank God Steve has good, talented friends. Ted, the auto body teacher at the vocational school where Steve teaches welding, spent days sanding, spraying and buffing the car to its current state of beauty. You know how it is though… the old emblems looked like crap next to the fresh paint. The mirrors were pitted; the turn signals were clouded. The quick engine swap quickly turned into a mini restoration.
I have to admit, I enjoyed most of the project. Every new piece of chrome that was installed made me a little bit more excited. Reinstalling the interior and detailing the black vinyl made the rest of my hectic world disappear. During those late summer nights, even the frustration of scraping my knuckles was a welcome relief from the normal stress of the day.
As the Woodward Dream Cruise neared, the push to get the car done was quadrupled, including a few all nighters from my husband and me, along with our friend Brian, and my sister Ashleigh. Ashleigh moved here in July, and has been helpful throughout this project, but she was especially helpful during the all nighters, supplying us with Taco Bells and an extra hand. We didn't get it ready for the cruise, due to complications with the drive shaft, amongst other things, but we were so close I could feel the wind in my hair. Steve finished it up while I was on a business trip, and by the time I got home, everyone had driven her except me. I cannot express how happy I was the first time I sat behind the wheel and was able to go through the gears of the newly installed T5. What followed next was a roller coaster of emotions.
When Trish and I went to Ventura for the Primer Nationals, the engine had no compression, and we were hoping to find a different car, and even contemplated canceling the Coker trip. The next weekend we were in Frankenmuth, Michigan dealing with a rained out show, and feeling pretty down, as we hadn't found a replacement car, and as far as we knew the Firebird wasn't working out either. However, Steve and Tom, my father in law, worked for hours to get the car running, and Wednesday morning, Ashleigh and I headed out to the 700-mile drive down I75 to Chattanooga, Tennessee, home of "Corkyville." Trish had to stay behind, as one of her cats had been poisoned and she had to take care of Rex.
The first part of the trip, from Detroit to Cincinnati was relatively uneventful. We had a fun lunch with our good buddy Vic, complete with a good hour or so of friendly chat, since we were doing so well on time. Until I hit the key! Nothing. So, Vic jumped us, we went to the gas station, and he jumped us again. We limped the car to Vic's home, where Archie (our GM certified car mechanic friend) was called to meet us. We spent a few minutes checking the charging system, and Archie noticed the red wire running to the external voltage regulator was broken, leading to an internal short. We headed up to Smyth's Auto and picked up a new voltage regulator, and a new battery as the old battery was ten years old. The alternator was charging fine, so we were back on the road!
The next few hours were beautiful! Ash and I were going through such beautiful mountain towns along I75 nearing Tennessee, and feeling like we had to be getting close to Chattanooga. We stopped for gas in Berea, KY, grabbed a quick bite to eat, and blasted out for the last leg of the trip. Ashleigh was falling asleep, I wanted a Red Bull, and I realized that my dash lights were no longer working. My turn signals were running slow, the headlights were dim, and we had to pee so bad that we pulled into the first gas station we found, a Conoco. We filled up the car, but they didn't have a restroom.  The attendant wasn't able to speak English and when I heard the "no" come out of his mouth, I had no idea where he was telling me to go. The only other place open at midnight in West Hills just outside Knoxville was a Wal-Mart. We got a jump to get from Conoco to Wal-Mart, where there was a nice bright parking lot and a pretty clean toilet. We picked up a meter to check the alternator, and headed back outside into the balmy Tennessee night. To make this trip even more comical, I have a pretty severe allergy issue, and we happened to be at a Wal-Mart that was positioned next to one of the largest hay farms in the region, and it had just been bailed that night. I couldn't stop the sneezing, was dead tired and refused to stay the night in that parking lot. We needed another jump, and so I asked these farm-looking guys for help.  Their one -legged woman friend hopped into her truck and drove it over to jump us.
We got the car running again, went back toward the Conoco station, and camped out in the car in the Autozone parking lot. Needless to say, sleeping in a '68 Firebird does not work real well with the stock interior, as the seats don't recline.  We weren't sure about the neighborhood, so we had the car locked up as best as we could. It was a beautiful sight at quarter after seven when Dennis showed up to open the store. At 7:30am, Don allowed us in to use the restroom. We started up the car, and tested the alternator. It was reading 10.5 volts. Believe it or not, Autozone actually had the correct alternator. We just had to swap the pulleys! They helped us out with tools to swap out the parts, swapped the pulleys for us while Ash and I had breakfast, and about 20 minutes after we had the alternator in hand, we were back on the road.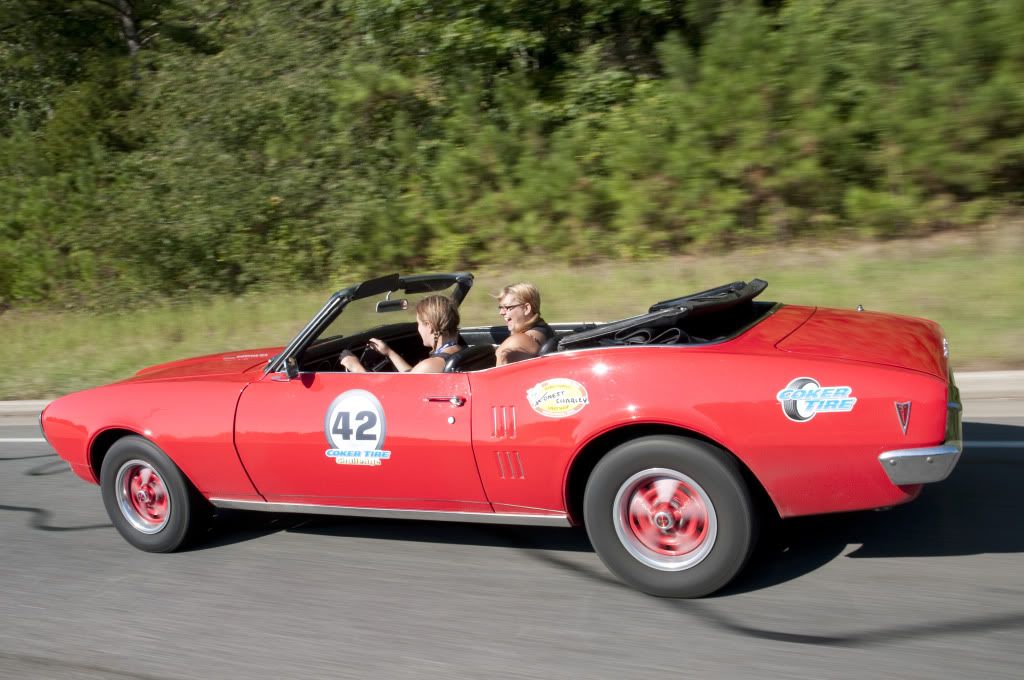 Thursday at the Rally headquarters was full of reuniting with old friends, meeting new friends, and being schooled about what rallying was all about. We were amazed at the Southern hospitality! Everyone had a suggestion and a hint… so they really shouldn't have been too surprised when on our first day we were only one second off on one of our timed legs. We were super stoked, but nothing compared to us receiving our ACE stickers on Sunday! Believe me, this was no easy task! We had some serious obstacles to maneuver through on the races. To begin with, neither Ashleigh nor I had ever had any kind of road rallying experience. Next, our speedometer is stock, and has a gear compensation box attached, due to running a 5-speed transmission. We learned that 47mph=50mph, and everything else was an educated guess from there. We had a Chihuahua run into the middle of the road, and sit there staring us down, causing a pretty significant time delay. There were about 15 vehicles filled with slow pokes taking their time at a stop sign. It took us 50 seconds to get through a 15 second stop, and yet, because of friends like Irene, Billy, and so many others, we were able to learn how to compensate in other timed areas to make up the difference.
We finished 4th in our class, 36th overall. We were a little over six minutes off in our timed rally over three days. Not too shabby, and Ashleigh and I were still friends at the end of the road course.
While in Chattanooga, it wasn't all about the rally. We spent some time up at Corky Coker's farm, chatting with Casey Coker-Cunningham and visiting her beautiful little babies. The boys were a little over a month old, and absolutely adorable! Our friend Jamie, from Honest Charley's Speed Shop took us out on the town in downtown Chattanooga. Between the Redneck-Italian wedding murder dinner, and causing a ruckus in the quiet streets of a quiet Tennessee town, it was a night to remember!
After the awards reception in the amazing Coker Museum, watching so many of our friends receiving super cool awards, not to mention the cash prizes, Ashleigh and I are already counting down the days for the next Coker Rally. And the next one will be bigger and better than ever, going from Chattanooga, all the way to Vermont, right near where Ashleigh graduated from High School! Rallyers, watch out. The Fitz-Matson sisters will be back again!