Introducing: Doni's Saab Story

(Genesis, Exodus and Lamentations)
Have you ever purchased a car because you couldn't handle how she was being treated? I mean, I really liked the car, but after I drove it and saw how the former owner drove her, I swear my common sense went out the window. Here's the back story. (Genesis)
Steve (My Ex-husband) and I owned several versions of Blazers and Trailblazers, and when I worked at his dad's company, Langdon's Stovebolt, we even played with some split headers and other items connected to the 4.2L Inline 6 cylinder that GM installed on this line. Due to my familiarity with this vehicle and how much I enjoyed driving the previous versions, and given that we were doing some car swapping between my daughter and me (how do you not sell the perfect 'brand new' $5K 2004 Durango to the daughter who is driving back and forth to college? She couldn't have found a better car for that budget if we tried…) I needed a car. My loving 2004 Escalade served me incredibly well was part of the swapping era, and I decided that I wanted something that didn't have a quarter million miles, and my sister needed a car. In a super awesome twist of fate, a friend had a similar escalade with even more miles and wanted mine. So, Ashleigh (my sister) got his Caddy for free!!! And My friend got mine for a good deal, Brooke (my daughter) ended up with the Durango and I was looking for what I really wanted. Because of my love of the mini full-frame truck platform, and the fact that I have zero fear about working on them, I started my search for that entire drive-line.
Many people don't realize that a car manufacturer often has several versions of the same vehicle under their umbrella. For instance, the Cadillac Escalade, and the Chevy Suburban share several driveline parts. The old Chevy Cavaliers were on the same platform as the Pontiac Sunfires, and later the Sunbird. The GMC Jimmy and the Old Chevy Blazer were the same trucks. They shared almost ALL the same driveline parts. Now, here comes the fun part:
The Chevy Trailblazer, GMC Envoy, Oldsmobile Bravada, and Buick Rainer are all obvious General Motors (GM) names and many people recognize these are the 'same' trucks. But also on this platform were the Chevy SSR, The Isuzu Ascender, and the Saab 9-7x. In my opinion, the Trailblazer SS and the Saab 9-7x were by far the nicest versions of this truck, and I personally like the body lines on the Saab overall of the line. So, I started to seek out my favorite truck.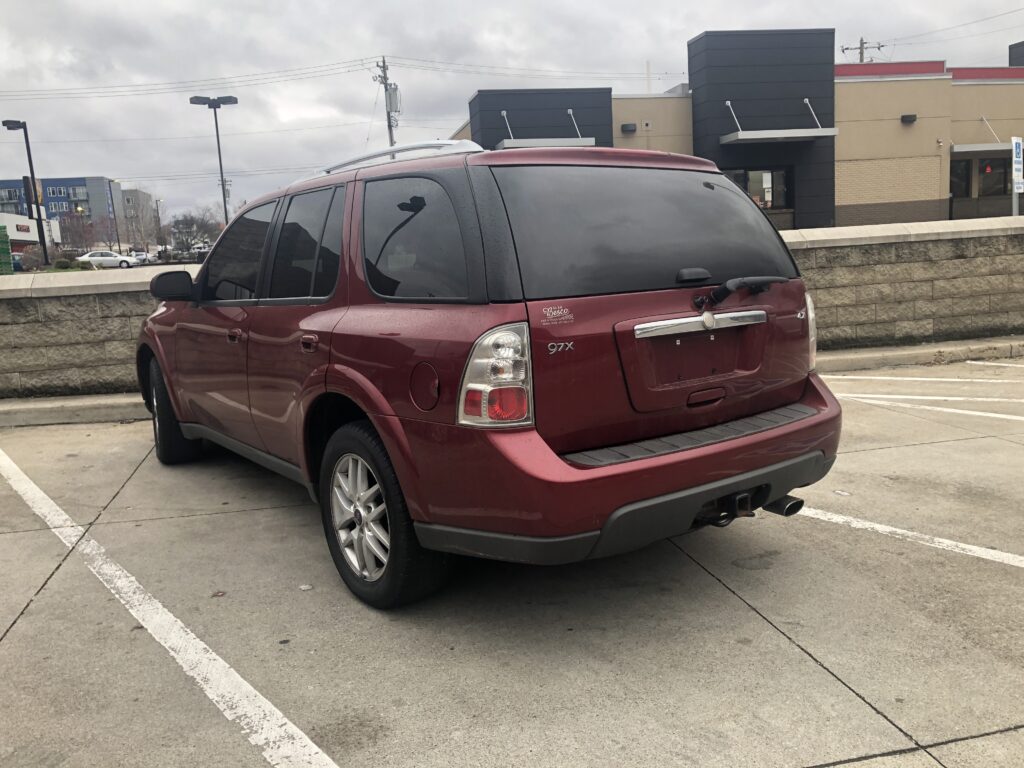 Exodus: I found Roxxie on Facebook Marketplace in Kentucky, just across the Cincinnati border. The owner did everything I asked, sending me a video of the underside, the interior, the engine running, photos, and details of specific parts, and so my husband Brad and I headed down to check her out. Tyrell, her former owner had told me that he was removing his special sound system and returning her to stock before we got there so she would be ready for us if we chose to buy her. This situation along with him getting her detailed, and likely resetting the codes made him late for our meet-up, and we watched him drive this Saab like it was stolen. First off, he was huge, like NFL tackle huge. Second, he came up to our car and slammed on the brakes like he drives this truck like that all the time. And I felt bad for her.
I got in and there were a few things off. The radio didn't work because he forgot to plug in the antenna. No big deal, Brad brought his tool bag so we fixed that to ensure it worked. The headlight wasn't fully seated, but it was also an incredibly easy fix. The Saab felt like she was mine when we started the test drive. Her seat felt good, and I felt like I needed this car. Plus, it's red. I like red. I looked under her but didn't jack her up. I decided (in my emotions) that I would simply fix whatever she needed as she seemed almost perfect. 2009 was the last year for this entire line and compared to the Michigan versions, there was almost no rust, and I thought I knew how to get the cigarette smell out of the leather interior. I bought her… mainly because I never wanted him to drive her again.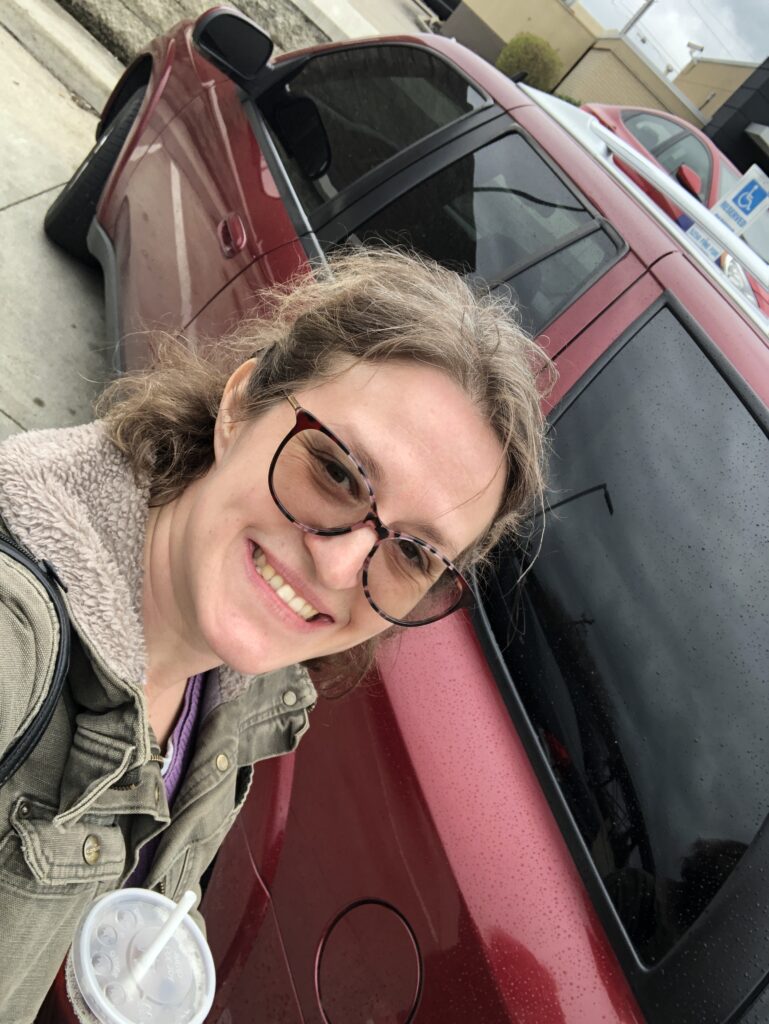 Now I know what some of y'all are thinking… It's just a car. They don't have emotions. But I disagree. When you become intimately connected with your car you may become attached. I haven't attached myself to every car I have owned, but most of the time there is some level of emotional connection, good or bad to any of them. I guess this falls under the heading of, you either get this, or you don't. We aren't all wired to be relational with our cars. But I am.
Lamentations: I drove the Saab home from Cinci, and she did great. I took her up to one of my favorite shops, Wetmores, in Ferndale to have her checked out for new tires and an alignment. Damn if I missed all sorts of issues. She needed inner and outer tie rods. Ball Joints. One of her rear trailing arms was broken in two. And the fun kicker? One of her wheels was cracked. I retrieved the car and decided to fix all of the suspension issues and then take it back for the original reasons. I bought the tools that my friend Kenny from Wetmores recommended, to make my life easier. So, I now own a ball joint press and an inner tie rod end remover. Even though the tie rod end tool stated it was for this application – the tool had interference with the steering knuckle and we needed to use it in a modified form. We also had to get creative with the ball joint press and use it upside down to avoid interference.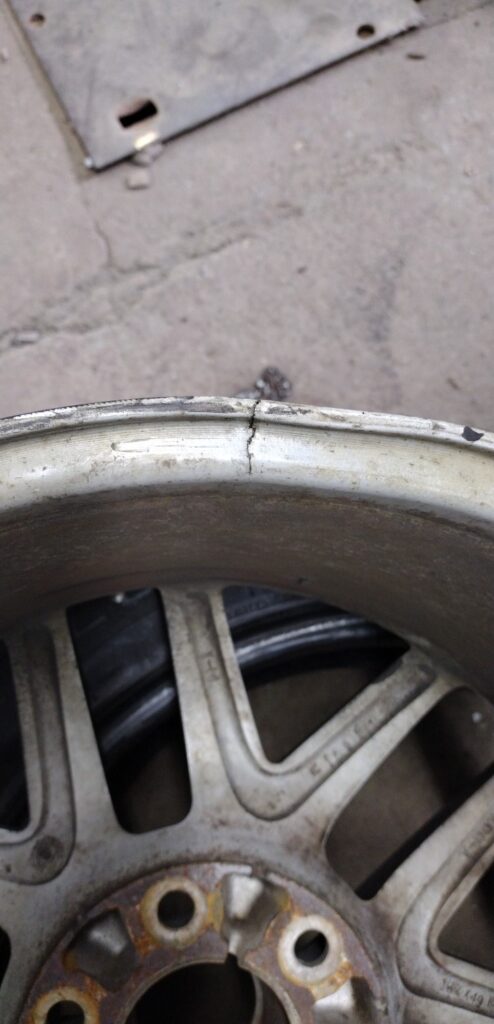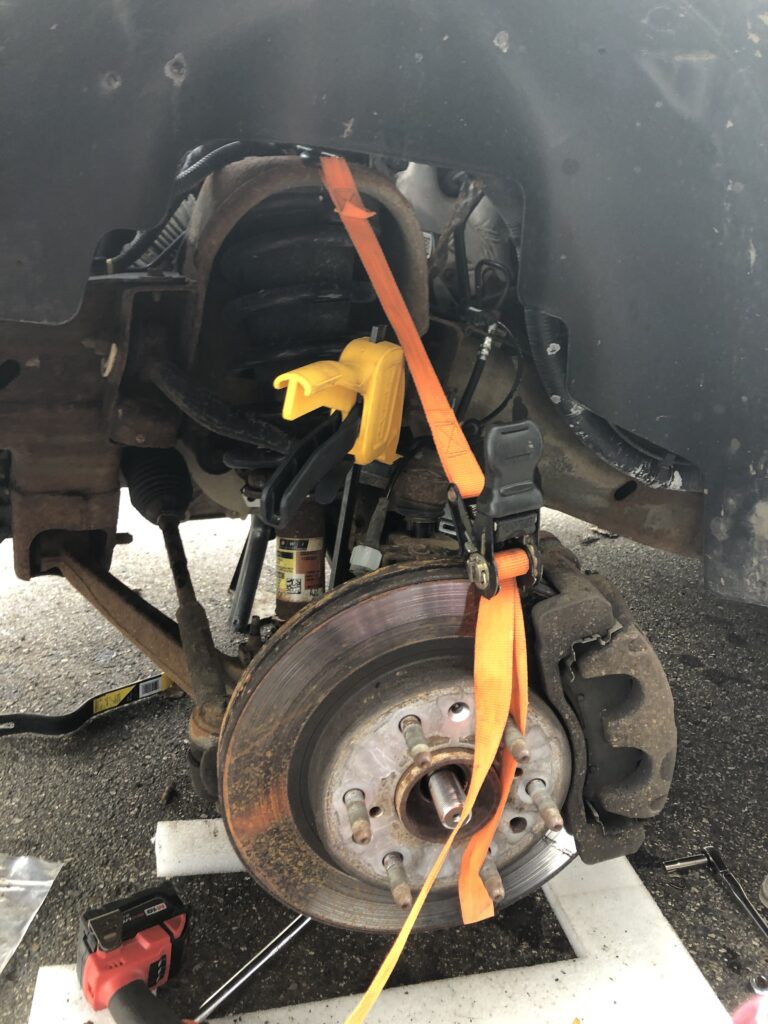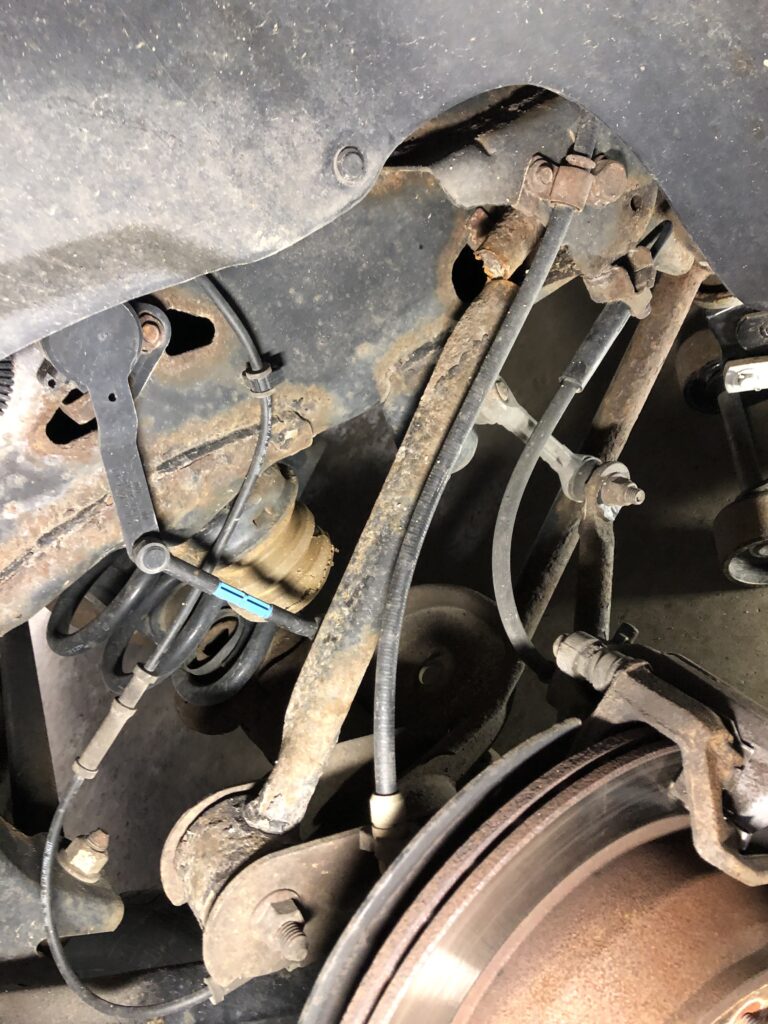 Since this isn't intended to be a full-on tech article, I will wrap this up and say it was incredibly frustrating to have the 'right tools' but we needed to modify them to function. We got the job done. I fixed the Saab to go back to Wetmores for tires and the alignment.
Round Two: My passenger door speaker blew. Seriously, I should have considered this based on the fact that Tyrell removed a giant bumping bass set out of the rear. To the junkyard, I went to acquire things for the Saab, which was named by my friend Dave after the Police song Roxanne. I was able to pick up the speaker, and I also grabbed the front piece that was missing from the cargo rack, and I grabbed nicer door controls for the heated seats, and anything else I thought I might need. Once you start stripping a car, it's not hard to just keep going. I now had a spare parts bin. We fixed the speaker and upgraded the other components. My car still stunk to high heaven of cigarettes, and my console lid wouldn't stay closed so we took that opportunity to pull the console and see what we could see.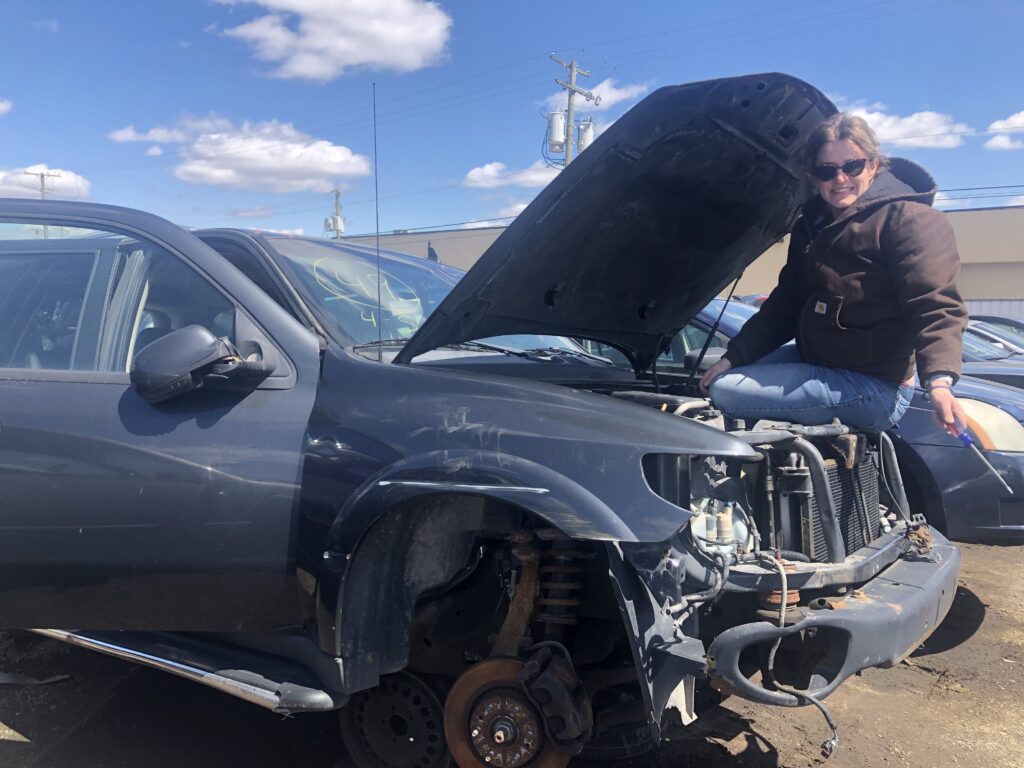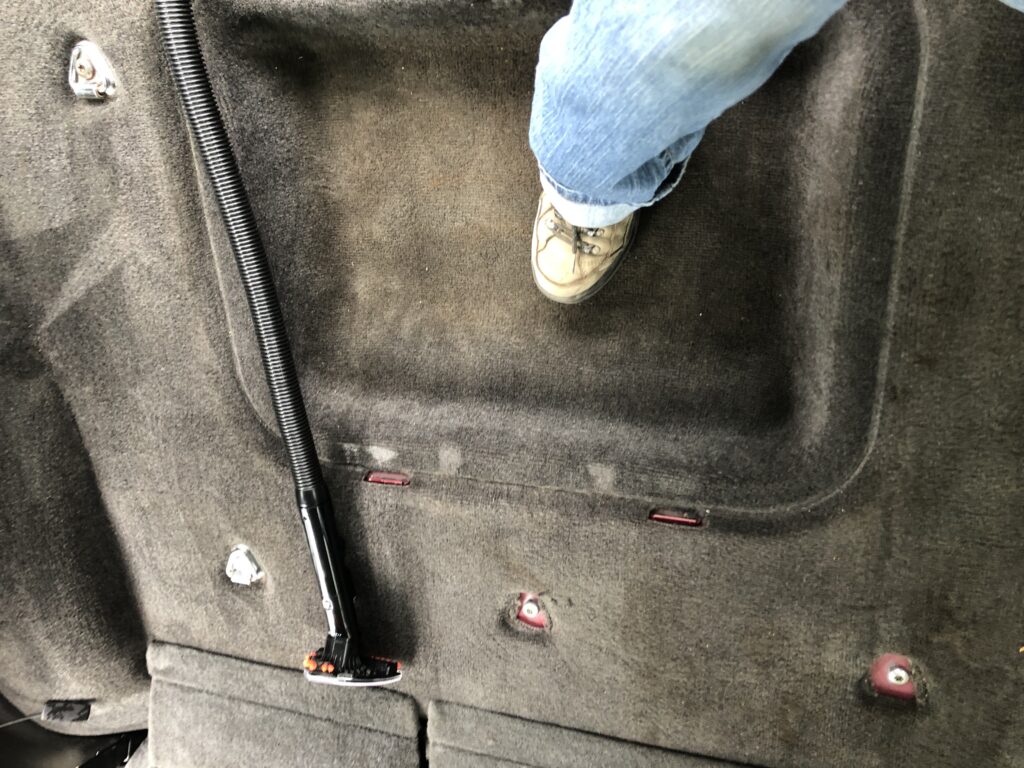 The plastic mounts were all busted. Brad is really good with epoxy and fiberglass repair, so he took on the task of rebuilding the console while I deep cleaned and shampooed the carpet under there. There were several old burnt cigarettes under the console, and no doubt that was the source of the continued smell. And after the console was reinstalled with the rigidity back in place, the console lid stayed locked down.
At some point when we were under Roxxie, we realized that the poor car had been in a significant accident, hence the rebuilt title that I basically disregarded when I bought it. So back to the junkyard to pick up the missing reinforcements that had not been replaced by whoever 'fixed' her after her accident. Would you look at that – there is a rust-free hatch in the junkyard! I knew mine was rotting out, as they all do as a result of some extremely poor engineering on that component. Let's ignore the fact that I was there alone – I didn't want to pass this up! So I hijacked a couple of young men who helped me remove it for a later project. (This will be in issue 41!)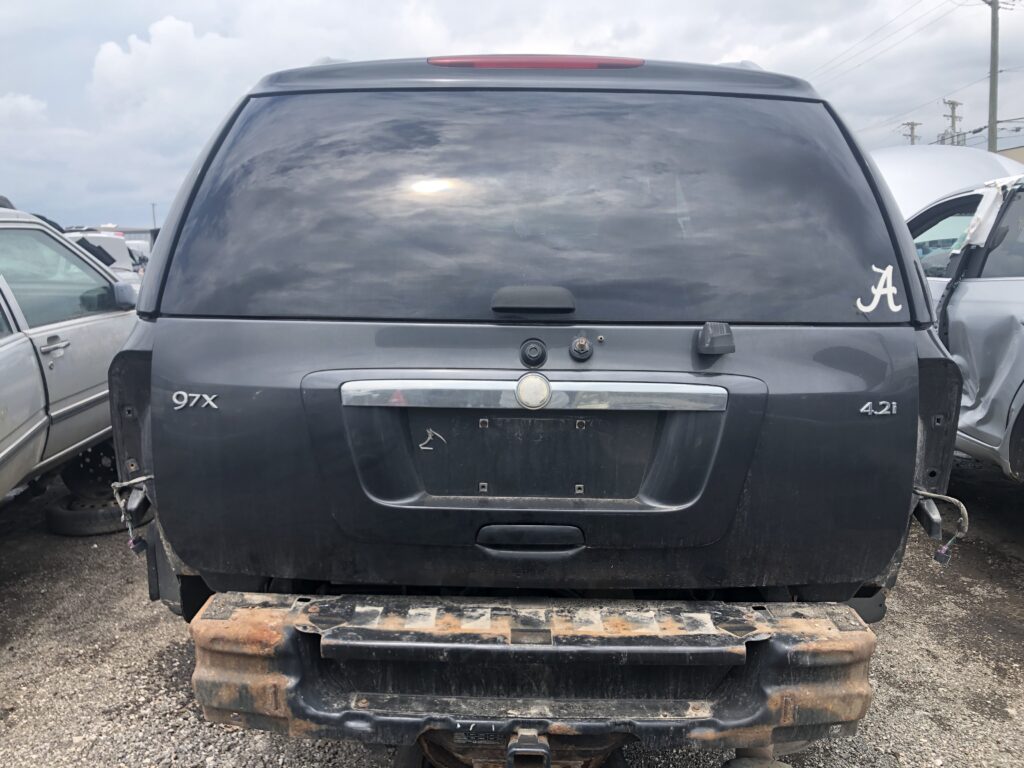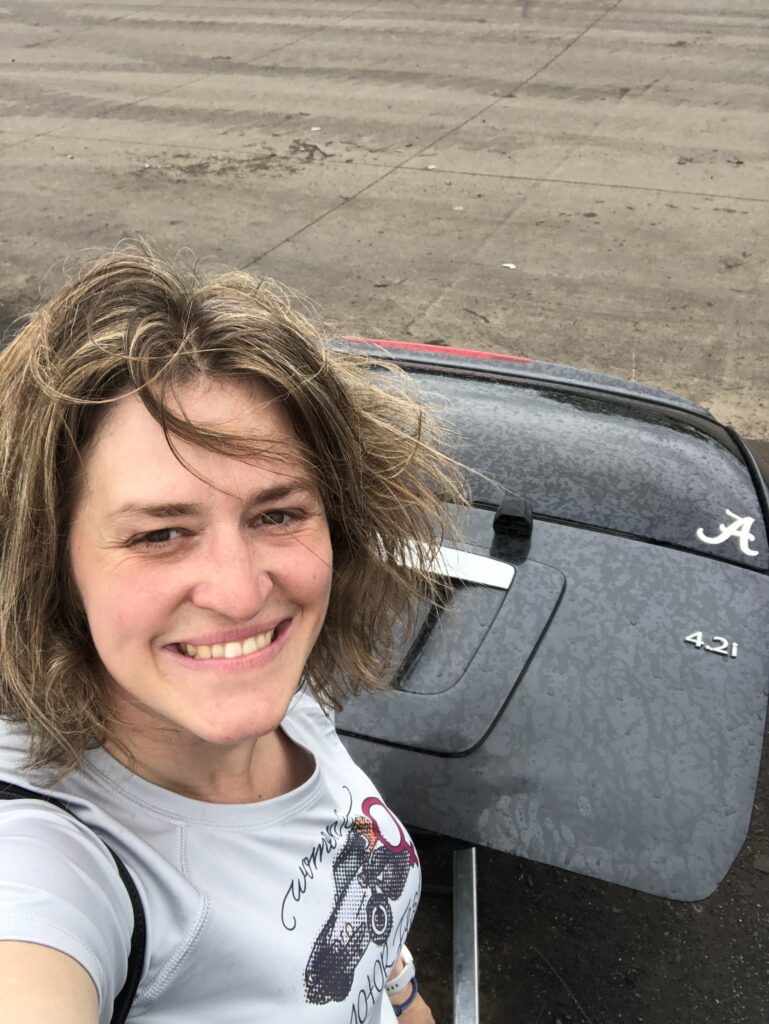 I had surgery in June, and right after my power steering lines blew. I had no way to fix that, as I was completely laid up for a few weeks, so my son Michael fixed that for me. While he was under the truck, he commented on my 'bluetooth front driveshaft'. I was seriously confused. What the hell was he going on about? Apparently, the former owner had the front driveshaft removed, which kinda defeated the purpose of having an AWD vehicle in a snowy state. Even more, how the hell did I miss that? Back to the junkyard we went after I recovered. We pulled the front shaft out of an Envoy and, with a new U-joint (I wasn't trusting a junkyard U-Joint) we installed that. Come to find out, the truck would now be in full time 4 wheel drive!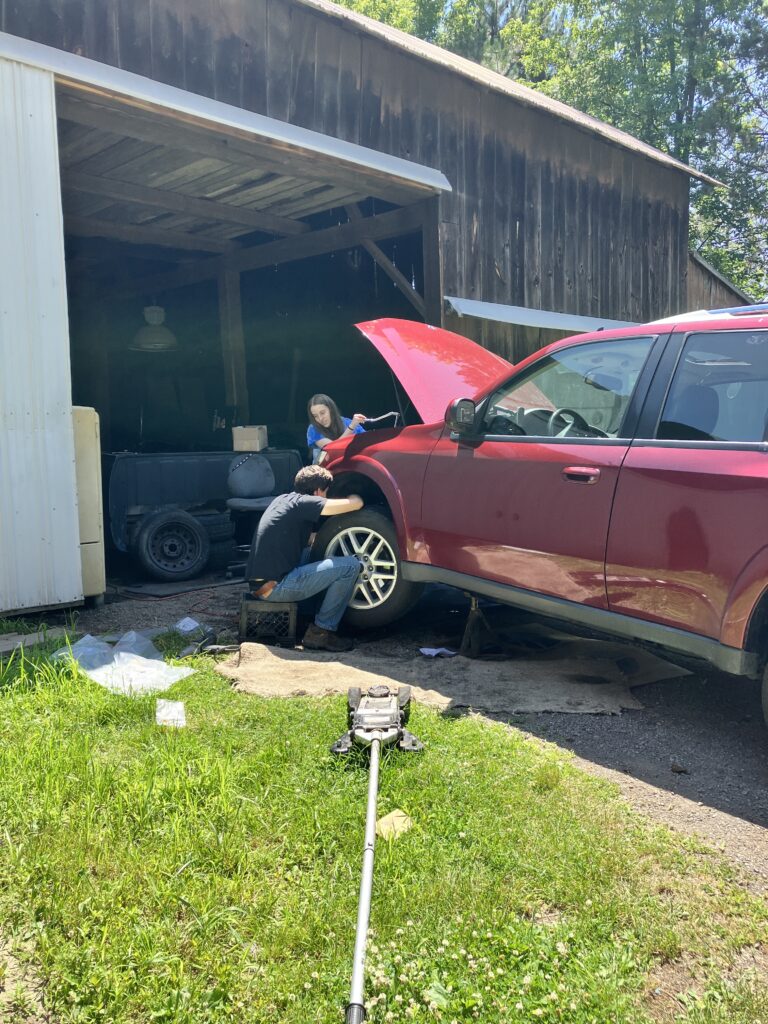 The Saab is a full-time automatic All Wheel Drive, meaning the car always runs the rear wheels and engages the fronts when slip is detected in the rear. In this case, the fronts were always engaged, so tight turns on the dry pavement were a significant issue. Turns out the transfer case encoder motor was bad. This was the easiest fix of any car repair ever. 20 minutes and an encoder swap and she was mechanically at 100%!
Now to deal with the final issue – the leaking sun roof. If you read issue 39, you'll know I wrote a tech piece on that. This story will be posted on our website so you can revisit, but basically the sunroof drains were plugged and I forgot that was a thing. Easy fix. The Saab was functionally perfect, and I was a happy girl. Now, to focus on the rusty hatch. Find that story in Issue 41, under 'Another Saab Story."
Because I do truly love this car, we will be covering this saga as it continues.