SBN All Woman Bronco Build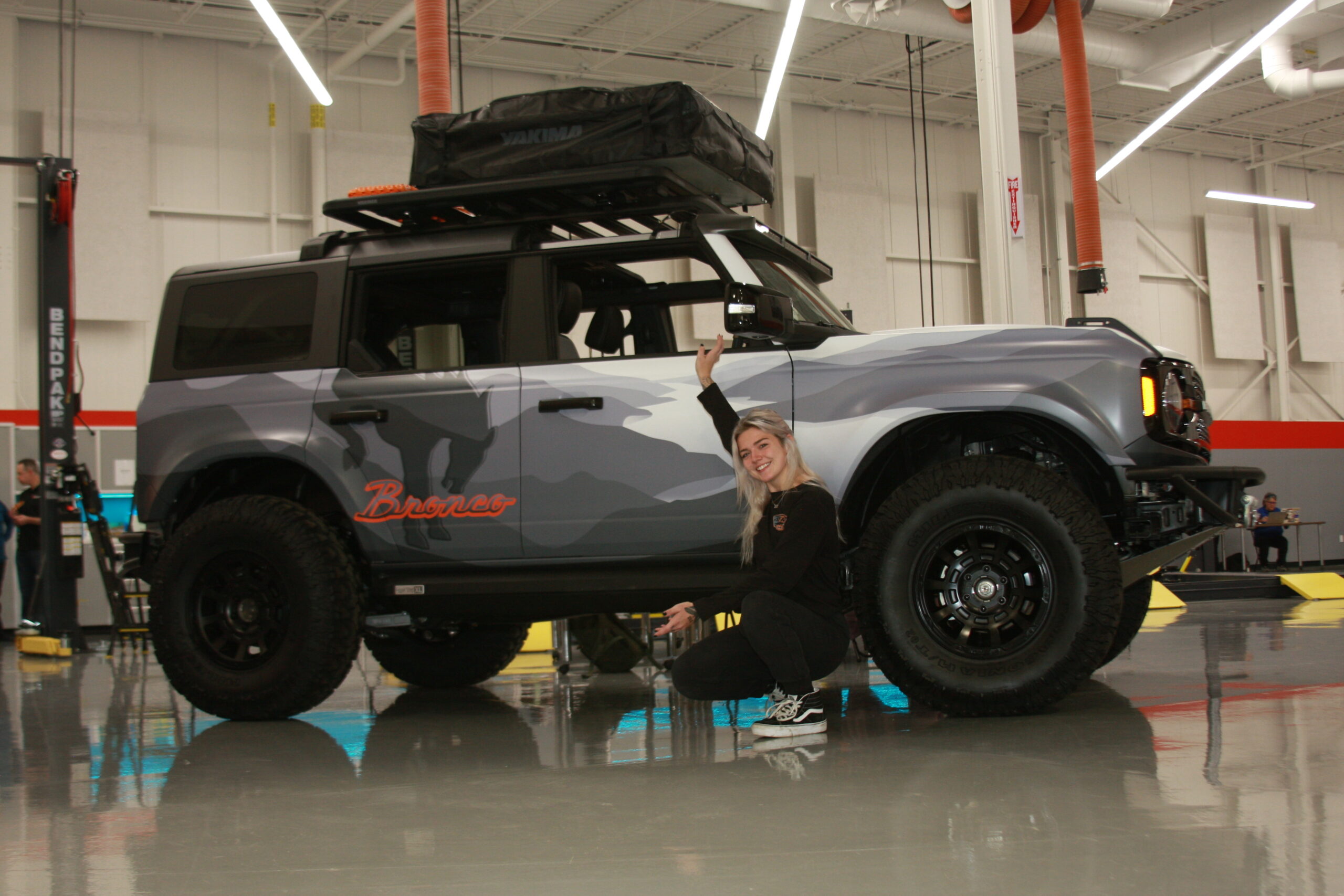 Ten years ago, the SEMA Businesswomen's Network (SBN) came together to build a gorgeous 2012 Mustang. This year, Ford partnered with SBN again with a 2022 Ford Bronco Wildtrak. I had heard musings about this build happening on the west coast and longed to be a part of it, but let's face it… sometimes these things are cost-prohibitive to volunteer for. Later I heard there were going to be two locations, and the other location for the build was in my backyard in Plymouth, Michigan! To say I was excited is an understatement.
I spent six days on the floor with the Gals, interviewing them, documenting the build process, lending a helping hand where needed and of course, making new friends.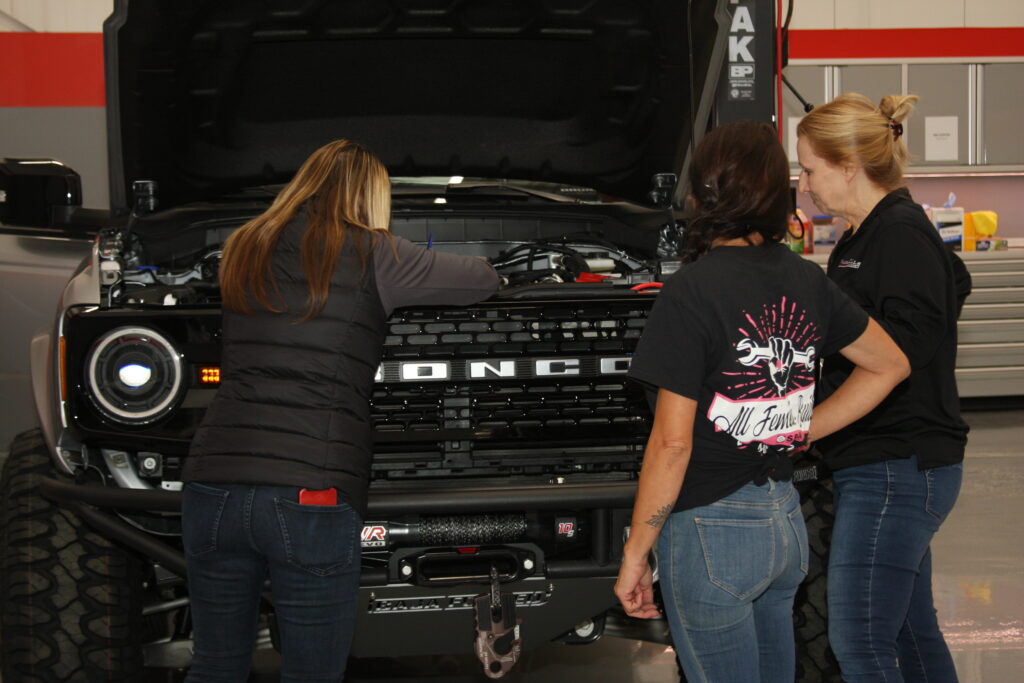 So, what does it mean to have a 'build'? Obviously, Ford built the Bronco, however, the project was to build an 'overlander' out of the truck. Motortrend defines Overlanding as: "Overlanding is self-reliant overland travel to remote destinations where the journey is the principal goal. Typically, but not exclusively, it is accomplished with mechanized off-road-capable transport (from bicycles to trucks) where the principal form of lodging is camping, often lasting for extended lengths of time (months to years) and spanning international boundaries."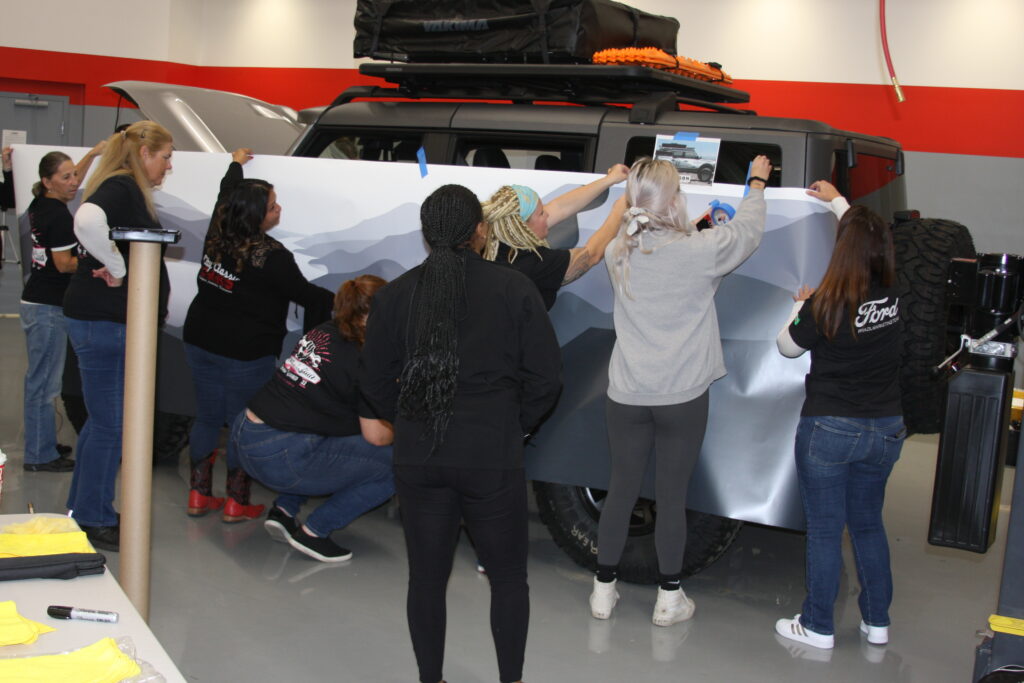 So, how do we build such a truck? Everything is basically modified. Body panels, suspension upgrades, and lighting are the most obvious modifications. There is a front winch to help you or your friends out of trouble. The rear seats and storage areas have been modified with locking drawers and a slide-out refrigerator, as well as a safe that installs into the console to lock up important things. A solar panel will be installed for the power supply and what's that up on the roof? Home. The top is outfitted with an amazing rooftop tent unit to allow home to be wherever you decide to stop for the night.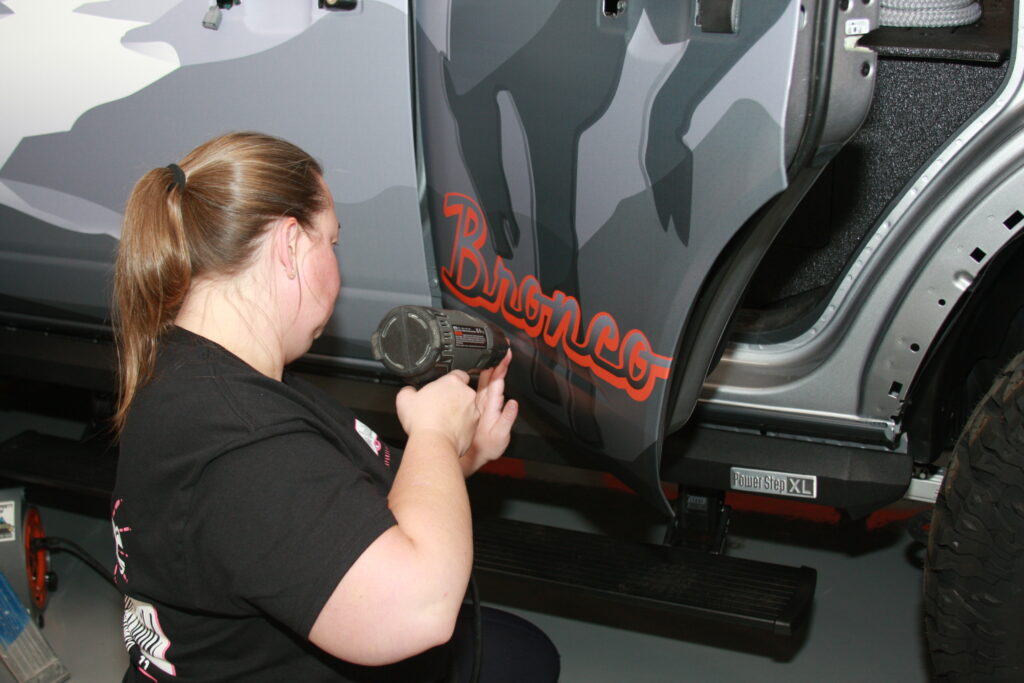 When you do a build, on any level, there will be challenges. You will find bolts that are too short, and body panels that need a bit of caressing for fitment. There will be times when you get frustrated because it is a customization, and if it were easy, everyone would do it. But it's not. So you take on this challenge KNOWING stuff won't work the way you think it will, and have your experts on hand to help you through it.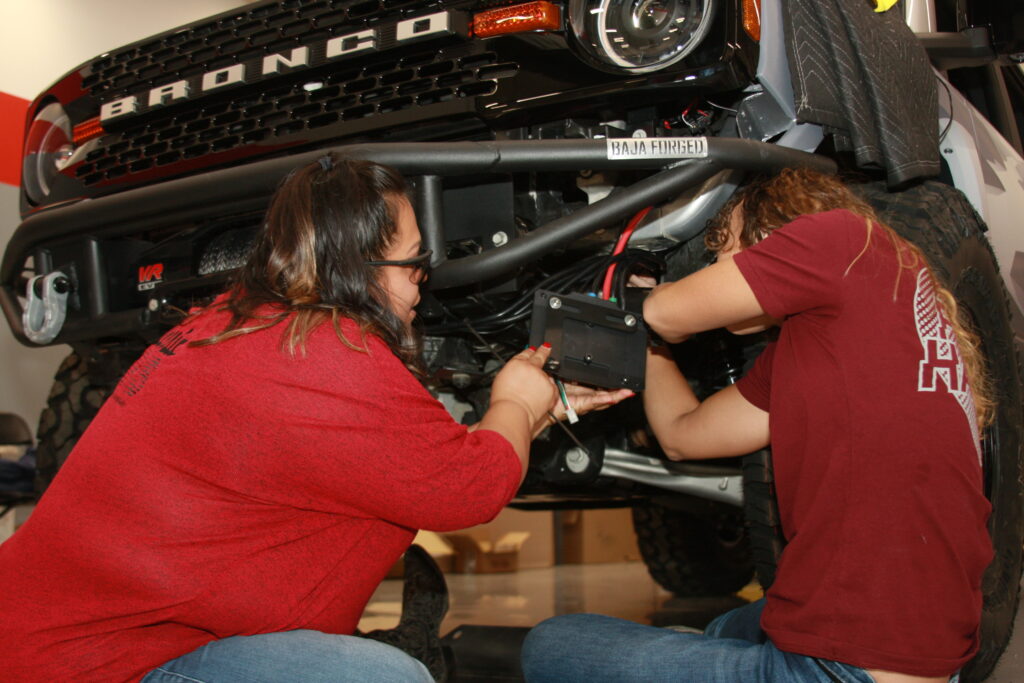 We had several 'experts' on the build. During the time I was there, I recognized that Julieanne DeVooght seemed to know about everything from lighting to suspension. Of course, since she is eyeball deep in this culture all the time, including her own Jeep builds, this was no surprise. Heather Holler and Devin Hoffman took off running and were inspiring to watch as they taught Gals how to utilize leverage and the weight of the actual vehicle to finalize suspension issues. (Sidenote: I had to chuckle when Heather took off in a bit of a frustrated frenzy to go buy a 'real' soldering iron for the wiring she was tackling. She was tired of the butane pen that we had access to…) Sherry Kollien knew the entire project, which you would expect from a project manager and someone who has worked with cars her entire life, and though she was always willing to help, she was pulled in a million directions, so she lent us her amazingly talented daughter, Alicia. Alicia is a student at our local college studying Automotive Technology and has a natural ability to simply know how things work. She was a wealth of knowledge and helped out everyone she could.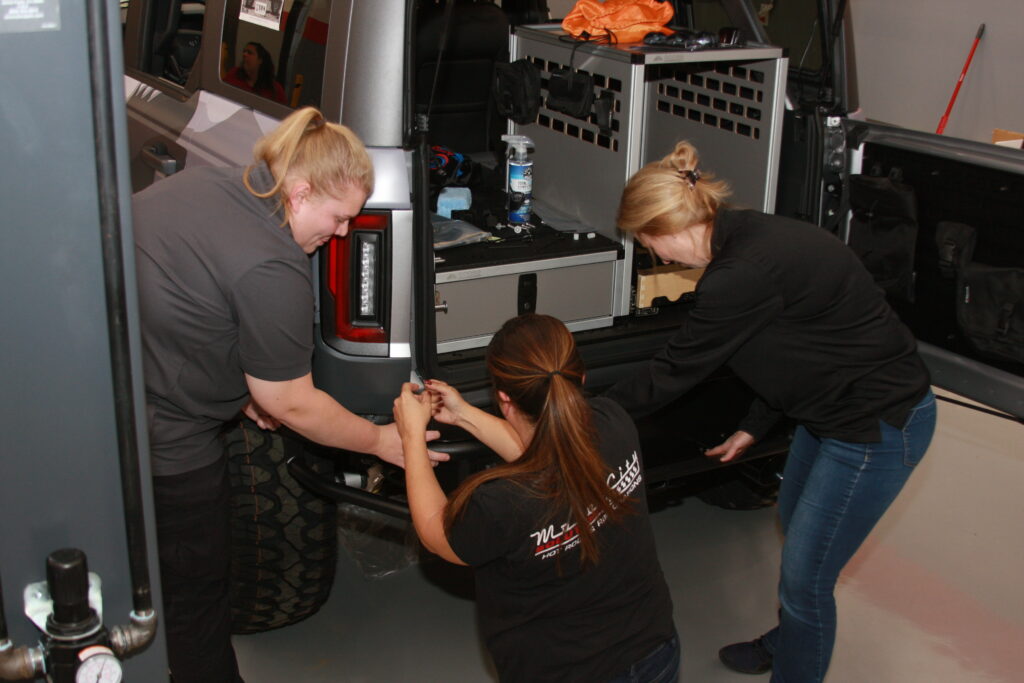 Something interesting to note: this build was done by women with varying levels of knowledge and experience. The ladies ranged from wanting to learn and knowing nothing about anything, to experts in their field. And honesty, I never heard anyone talk down to anyone else. If you are familiar with shop culture, this is often not the way it works. I have seen extremely capable women get dismissed for their knowledge until she absolutely proved it… Again and again. But here? There was no shame in stating that you didn't know something, and those that had the skills were the first to jump in… not to do the work – but to teach the other girls HOW to do it.
One of my favorite Gals on the build is EJ Naegeli. You will see MUCH more of her in future issues of TG, because we see that she is enormously capable and is a triple threat. She is young, talented, and gorgeous. She has big dreams. This Gal is going places. Oh, and did I mention how nice she is? This young woman was responsible for the entire car wrap. In her early 20s, she has the talent of those decades older. She allowed all the Gals who wanted to help a job doing something productive. From surface prep to holding the wrap for alignment, stretching, heat sealing the edges… Watching her work was like watching a magician, and that magician was sharing her magic.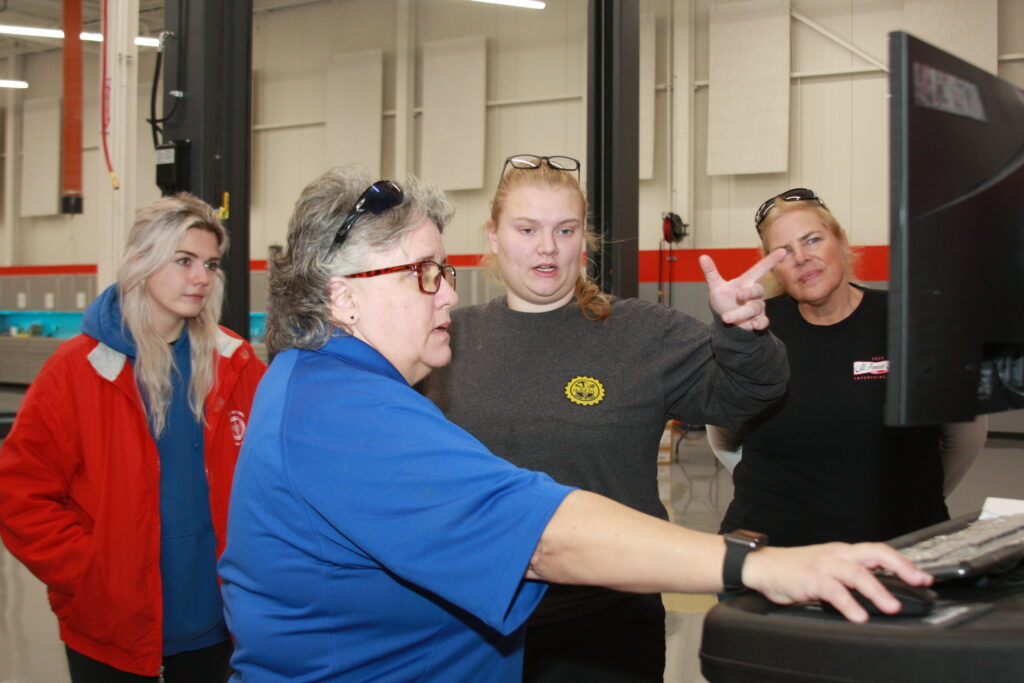 I stated earlier that I interviewed all the Gals. I also stated that part of the reason I was excited about the build was to make new friends. The crazy thing was that in every interview there were commonalities. These included similar challenges, as well as similar reasons for being part of this build. The number one commonality was along the lines of networking and making new friends! Our very own Keri Porter made me laugh when she giggled about loving to work in the garage with her Gals and wanting to make new friends. Gina Quasny was excited to learn from others during this once-in-a-lifetime opportunity. Sheena Dixon was excited to be part of something bigger than herself. Every one of us had some kind of excitement working with 'smart intelligent women' and we all looked at each other as an expert in our fields. Even the mechanical 'novices' of the group had value as they had capabilities they may not have been aware of, that connected to what they do in 'real life'. Everyone who helped was a gift to the build and I felt like the leadership made that clear.
To the SBN, thank you for allowing Throttle Gals to be a part of this build project. We cannot wait to see what project you come up with for us to do next! And hopefully, it is not another decade out.