Bessie Stringfield: A Young Woman With A Lot To Prove.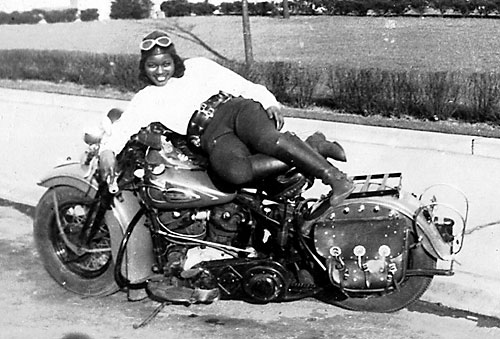 By: Trish Horstman
In 1930 Bessie was only 19 years old. She was facing prejudice not only as a woman of color but also as someone who rode a motorcycle – something considered edgy and taboo for the times. Despite these prejudices and a haphazard highway system, Bessie was the first African-American woman to ride across the US all by herself. Bessie was not someone easily held down, though. She lived by a simple and inspiring credo, "What I did was fun, and I loved it."
Bad roads, mainly unpaved and scarred with challenges were some of the many hurdles Bessie would face on her travels. But discrimination and Jim Crow laws put even stronger hurdles in front of her. Nothing fazed her, though. She was an experienced rider, willing to face any and all of it to have fun on two wheels.
So where did this incredible gal get her strong footing in life? From humble and strong beginnings, of course. She was born on February 9, 1911 in Kingston, Jamaica. Her birth name was Betsy Ellis. She was born to a white Dutch mother and a Jamaican father. At the age of 5, after moving to Boston, both of Betsy's parents died from Smallpox. It is undocumented when or why her name was changed to Bessie, but it can only be assumed it was when she was adopted in Boston by an Irish Catholic woman. Though raised devout, her "mother", as she called her, obviously raised Bessie to be the strong gal she was.
At 16 she asked her mother for a motorcycle. She obliged and gifted her a 1928 Indian Scout. She took quickly to riding and said that God himself ("the Man Upstairs", as she called him) gave her the innate ability to ride. "When I get on the motorcycle I put the Man Upstairs on the front. I'm very happy on two wheels," she told journalist and author Ann Ferrar in Hear Me Roar: Women, Motorcycles, and the Rapture of the Road (1996).
At 19 she made her first trek across the United States. But this was not the only time Bessie made the trip. She actually traveled from coast to coast a total of eight times in her life, visiting all of the 48 contiguous states. She even left the country and visited Brazil, Haiti and parts of Europe on her bike. It is said that the way she would choose her journey was to toss a penny onto a map and travel on her motorcycle to wherever it landed. To help fund her trips, she performed motorcycle stunts for local carnivals, which became part of what helped secure her fame.
Bessie was particular about what her favorite bike was, a 1929 Harley-Davidson. Stringfield would own 27 of them in her lifetime—"The only motorcycle ever made," she said.
As an African-American woman traveling throughout the 1930s and '40s, Bessie faced risks constantly. Not only did she participate in an alternative lifestyle, but also she was treated as a second-class citizen because of her skin color. She had to take extreme caution, especially in the Deep South, where black people were rarely able to move freely. She faced times when motels denied her a stay, so she slept in gas station parking lots with nothing but her motorcycle for a bed.
Bessie was a hard woman to hold down. She was married six times. After losing three babies with her first husband, it is said that Bessie's heartbreak kept her from ever trying again to have children. Despite divorcing her third husband, Arthur Stringfield, he insisted she keep his surname, "Because I'd made it famous!" said Bessie.
By World War II, Stringfield and her Harley-Davidsons were fixtures on the motorcycle circuit around the country and parts of the world. Like many women during that time, she did her part during the War. She worked with the United States Army as a civilian motorcycle dispatch rider, the only woman in her unit, carrying messages between domestic bases. She even affixed the Army crest to the front of her blue Harley 61. When it came to gals like Bessie, Rosie wasn't kidding around with her credo, "We can do it!"
In the 1950s, Stringfield settled in Miami, where she became a registered nurse. Motorcycle clubs were on a quick rise in the country during this time. To find and ride with other like-minded folks, she founded the Iron Horse Motorcycle Club. It is reported that she was repeatedly pulled over by police officers who claimed, "Nigger women are not allowed to ride motorcycles."
This was far from what would take Bessie down. She was determined to be given due respect, so Stringfield arranged a meeting with the chief of police, took him to a local park, and proved her motorcycle skills first-hand by demonstrating her riding abilities. She says she was never targeted by police again. Instead, she was welcomed and performed in races. She was given the nickname "the Motorcycle Queen of Miami."
Bessie truly paved the way for not only African-Americans but women alike. In 2000 the American Motorcycle Association honored Stringfield with an exhibition. The AMA created the Bessie Stringfield Award, which is presented annually to an individual who has been instrumental in bringing motorcycling to new audiences. She was inducted into the Motorcycle Hall of Fame in 2002. In June 2016, the Miami Times reported that 200 female riders would travel to Stringfield's South Florida home to honor the late pioneer.
Stringfield had passed in 1993 at age 82 from complications surrounding an enlarged heart. Though her doctor had advised her to stop riding, "I told him if I don't ride, I won't live long. And so I never did quit."