La Femme – A Car Designed for the Woman

By Doni Langdon
(Photos by Jeni Witte)
Long before Throttle Gals was ever thought of, Chrysler had a fantastic idea, build and market a car specifically toward women. Jeni, our Head Peon came across this car the last weekend the Chrysler Museum here in Metro Detroit would stay open, and took these photos for us. However, with the museum now shut down, there wasn't really a great way to ask for more information from the museum curators But, since they did an incredible job sharing the story with us via their storyboards, we're going to share the story of the LaFemme, as told by the Chrysler Museum.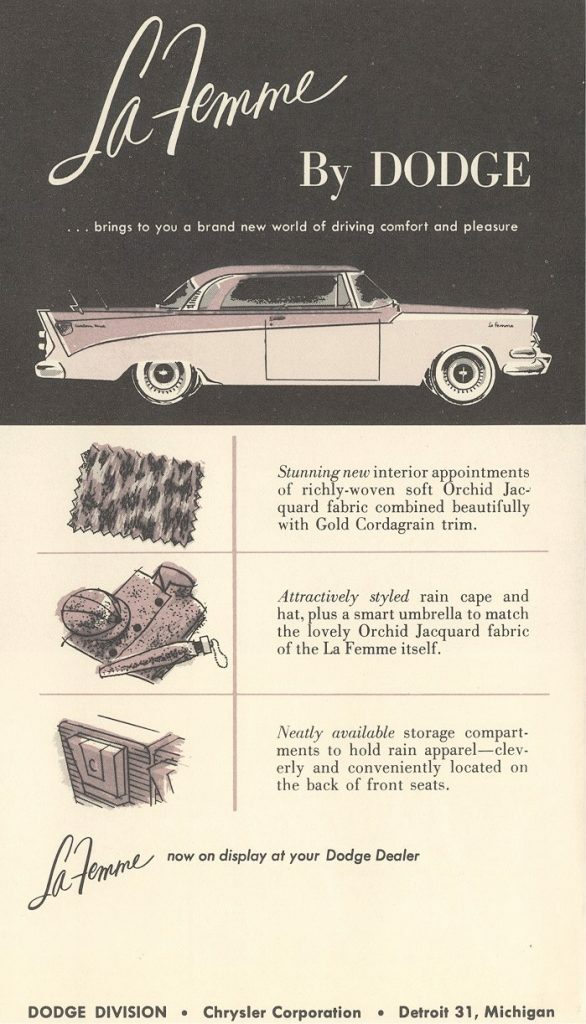 Was the Dodge LaFemme a brilliant idea, just slightly ahead of its time – or simply one of the auto industry's occasional flops?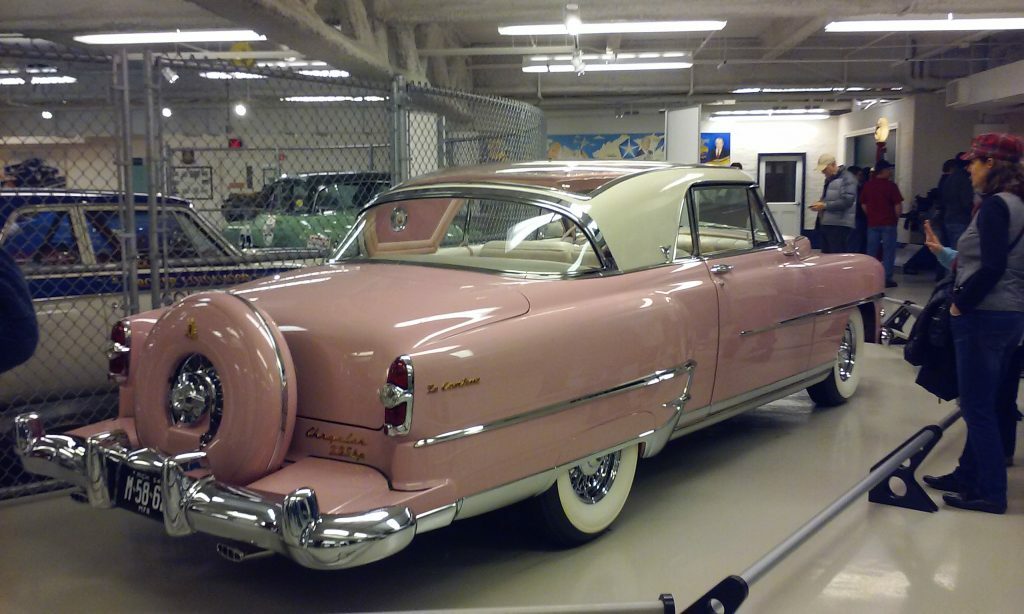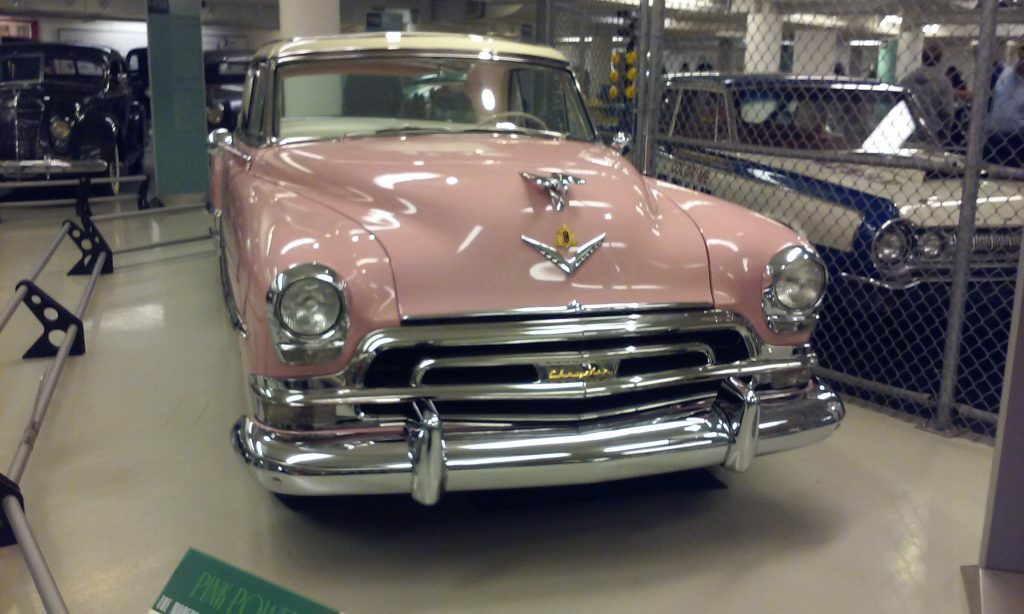 In 1954 Chrysler created two "his-and-hers" concept cars for the auto show circuit, LeComte and LaComtesse, each built from Chrysler Newport hardtops and each featuring a clear plastic roof covering the entire passenger compartment. With its bronze-and-black finish, LeComte made a bold, masculine statement, but the softly shaded LaComtesse turned more female heads.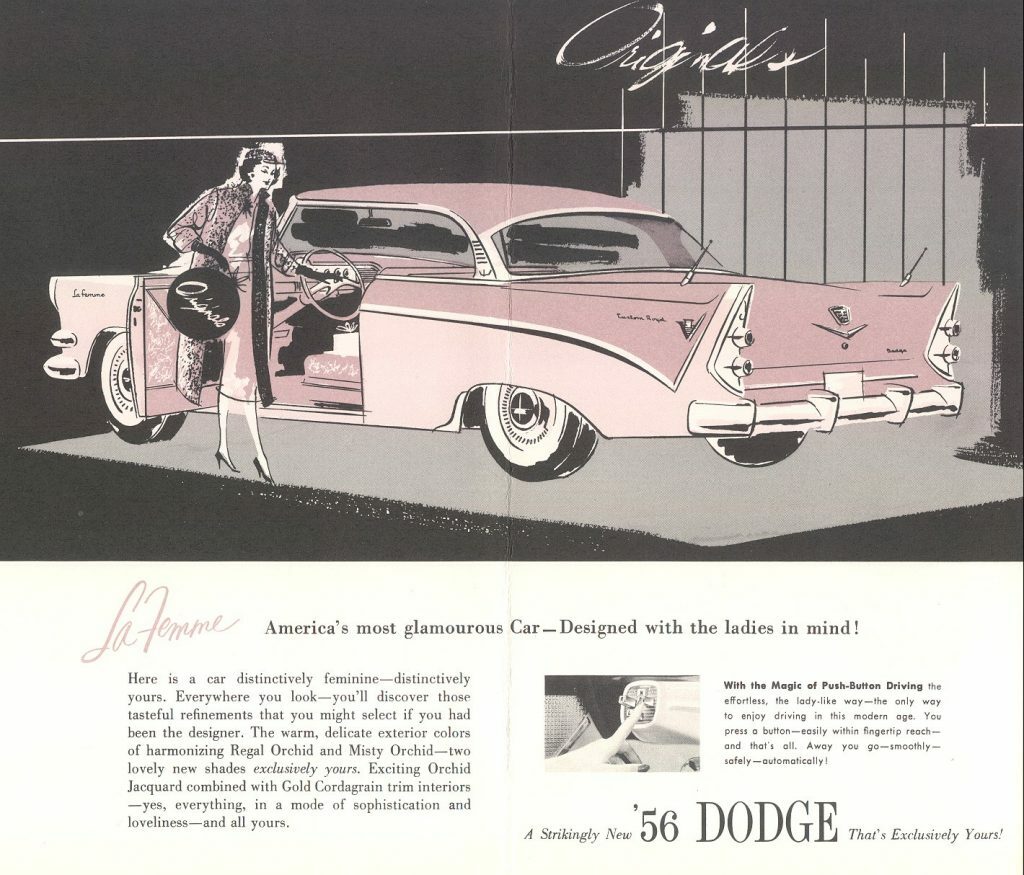 The company's press release described LaComtesse. "Chrysler's exotic new plastic-top car presents a gorgeous two-tone exterior of Dusty Rose with a Pigeon Gray top. The interior is luxuriously finished in Cream and Dusty Rose leather with seat back inserts of platinum brocatelle fabric. Interior appointments are set off by specially-designed chrome hardware…" Auto show visitors responded favorably and the company began considering how it might capitalize on their interest.

With more and more women entering the workforce and exerting greater influence on family purchasing decisions, Chrysler executives foresaw a rapidly growing market for female motorists. Recruited in unprecedented numbers during World War II to fill workplace vacancies created by the exodus of men to the war effort, women were often reluctant to turn over their new jobs – and income – to returning servicemen. Postwar prosperity created new jobs for both men and women, enabling many one-car families to become two-car families. During this period Americans also embraced suburban living, generating still more demand for new automobiles among women entering the workforce and housewives alike.
And thus the LaComtesse show car of 1954 in just one year evolved into a bold new production car, one designed for the 'discriminating, modern woman.'
The Dodge LaFemme was a $143 option -package version of the 1955 Custom Royal Lancer hardtop. Despite extensive advertising and promotion, sales were disappointing; Chrysler learned that only a certain number of women wanted to buy and drive automobiles painted in pink, orchid or other 'female' colors. Total LaFemme sales for 1955 and 1956 would not surpass 2500 units.
A half-century after the LaFemme, marketers are still looking for ways to tap a growing market of female consumers. Recently, a major electronics manufacturer introduced a 'cell phone for women,' with a calorie counter, camera, shopping list and other features all housed in a pink superstructure. Still, while one market research company found that 32 percent of women think using 'female' styles and colors to market products to women is a good idea, only 11 percent said they would buy such a product.
That sentiment is even stronger when it comes to cars. "Rightly or wrongly, women associate cars with positive images of masculinity and power," said Virginia Scharff, author of the book Taking the Wheel: Women and the Coming of the Motor Age. "Given a choice between a LaFemme and a Barracuda, they'll choose the Barracuda."
More than fifty years after its brief appearance in the automotive limelight, the Dodge LaFemme remains the only automobile expressly designed for and marketed to women.

Personally, I wish that they had kept this idea for a package open, but across an entire product line. Perhaps a LaFemme package on an Imperial, or even a Challenger later on in life. I could be excited about a package on my car that included a more feminine paint job, a seat that slides a little closer to the dash and a place for my purse. Maybe even some purple accent stitching to match my paint color. I don't think this was a bad idea, but I do think it was short sighted to limit this to a single type of car. Maybe someone out there will read this and think I have a good idea. If so, I'm happy to help you out with that 😀 ~Doni